Atom-Based Mini Laptop Launched By Sony
Submitted by Darpana Kutty on Sat, 01/31/2009 - 18:22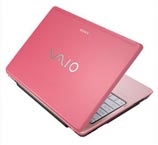 The readers would be very glad to know that on Tuesday, Sony Philippines launched two models of the Vaio P, of which the most attractive feature is its 8-inch ultra wide high-resolution (XGA 1600 x 768) display.
The company claims that its new mini laptops are not netbook but pocket style PCs.  
Intel's Atom Z processor is used by the Vaio P, which has been equipped in it after making it more compact and power efficient than the previous Atom N chip.
The price tag of Vaio P is at P49, 999 to P69, 000 depending on processor and storage configurations. The earlier Atom N netbooks' price fell in the P20, 000 to P30, 000 price ranges.  
Mr. Zhorida Lipayon, Sony Philippines marketing manager said, "The Vaio P falls into a totally new category. The higher-end model also features built-in noise canceling technology by Sony."
While referring that the Vaio P can compete with regular priced laptops, he added, "It's a fully capable PC that's more mobile."
At the Consumer Electronics Show in Las Vegas last month, the Vaio P was first unveiled by Sony.  
Via the pre-sales orders on Sony's local website, the users can avail the product.  
Lipayon concluded, "There are limited stocks available but we are projecting enough quantity for the Vaio P to be a sustainable product."