Anna's fast enters eighth day, health stable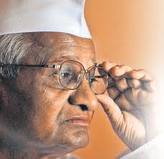 New Delhi, Aug 23 : Activist Anna Hazare has lost around 5.5 kg as his fast for a strong anti-graft bill entered its eighth day here Tuesday, an aide said.
"He (Anna Hazare) has lost a total of around 5.5 kg since he began his fast… his blood pressure is 124/82 and the pulse rate is 84. But he is feeling good," Hazare's confidante Manish Sisodia told reporters.
"Doctors are regularly monitoring him and as of now there is no need to hospitalise him. His condition is stable," added Sisodia.
The eighth day of Hazare's fast began with his supporters singing devotional bhajans and patriotic songs.
There was a dip in the number of supporters Tuesday morning.
"The extended weekend is over. So, that will certainly affect the crowd strength but the numbers will surely rise once the day progresses," said one of the volunteers.
Hazare began his fast Aug 16 when he was taken to the Tihar Jail and released the same day -- but he refused to move out. He came out of the jail Friday and continued his fast at Ramlila ground. (IANS)