Al Qaeda, Baitullah Mehsud prime suspects in Lahore bomb attacks
Lahore, Mar 14: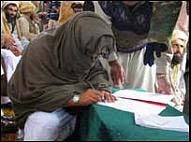 Al Qaeda and pro-Taliban commander Baitullah Mehsud are being suspected as masterminds behind Tuesday's twin suicide attacks in Lahore, said law-enforcement and intelligence officials here.
The Federal Investigation Agency (FIA), the Punjab Police and the Crime Investigation Department have been informed that because the headquarters of various agencies are located in Lahore, they were attacked.
Lahore was not a new target. Intelligence had arrested at least 48 suspects, including seven suicide bombers from the provincial capital and recovered 640 kilogrammes of explosives, investigators claimed.
According to the Dawn, US investigators visited the bombed FIA headquarters on Thursday to assess the damage caused and to fund clues that could provide them with leads.
Punjab Police have apprehended 15 more suspects including four members of a banned organisation in connection with Tuesday's bombings.
According to the Daily Times, several raids have been conducted in southern Punjab.
Raids were also conducted on the houses of Qari Khalid Mahmood Zia and Maulana Abdur Rashid Bilal at Khangarh but they were not arrested. (ANI)