Yashwant Sinha alleges another telecom scam, writes to PM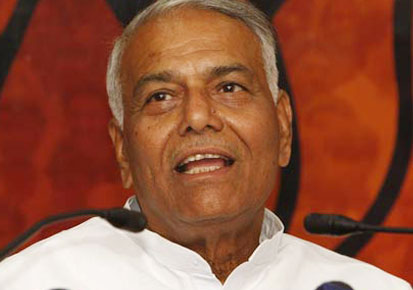 New Delhi, Nov 12 : Bharatiya Janata Party leader Yashwant Sinha Tuesday alleged another telecom scam was taking place and urged Prime Minister Manmohan Singh to reject TRAI (Telecom Regulatory Authority of India) recommendations of spectrum reserve price and user charges.
"I would like to draw your attention to another scam which seems to be taking place in the telecom sector," Sinha said in his letter to the prime minister Nov 9.
The letter was released to the media Tuesday.
"I urge your office to take immediate remedial measures and in order to realise the true economic value of spectrum and to uphold the interest of Indian citizens and the revenue objectives of the government, the recommendations of the TRAI with respect to reserve price and SUC (spectrum usage charges) should be rejected forthwith," Sinha said in his letter.
According to Sinha, as per the TRAI recommendations the reserve price for 1 MHz of spectrum on pan-India basis in 1800 MHz band has been reduced from Rs. 2,376 crore to Rs. 1,496 crore or by 37 percent.
In case of key circles like Mumbai and Delhi, this reduction is much steeper by over 50 percent, he said.
Similarly for spectrum in 900 MHz band, TRAI has proposed reduction in reserve price in three metro service areas by 62 percent from Rs. 1,718 crore to Rs. 650 crore for a block of 1 MHz spectrum, he said.
These changes would result in a loss of around Rs. 35,000 crore, he alleged.
"With these reserve prices and the amount of spectrum intended to be auctioned in the forthcoming auction, the potential loss to the government can be as high as Rs. 35,000 crore," said Sinha.
"Even with the telecom commission's recommendations that have proposed 25 percent increase in metro and category A circles for 1800 MHz band reserve price and metro circles for 900 MHz band, the potential loss amounts to Rs. 27,000 crore," he said.
Sinha, a former union finance minister, has noted that "the spectrum reserve price and SUC are serious issues which involve pricing of scarce natural resources and, therefore, will always be subject to scrutiny -- today and in future."
The Central Bureau of Investigation is probing the controversial 2G spectrum allocations in which a loss of revenue worth Rs. 1.76 lakh crore has been alleged by the Comptroller and Auditor General. (IANS)