Yamaha launches India's first women's training program
Submitted by Devang Murthy on Sat, 01/05/2013 - 22:34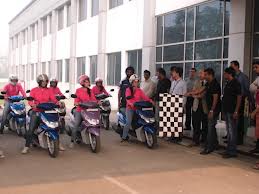 Automotive giant, Yamaha Motor has announced the launch of the first driving trainingprogram meant for ladies in India.
The company announced the launch of Yamaha Female Riding Training Program (YFRT) in the southern city of Chennai. Yamaha had entered the Indian scooter market with the launch of Ray in September 2012. Ray is targeted at young urban women in the country.
The company is aiming to cater to the demand for a stylish and easy to use scooter for women in urban areas in the country, who are looking for a vehicle with a new appeal.
The Yamaha Female Riding Training Program is designed for those customers who are concerned about driving or want to obtain a driving license. The program will be offered in various cities across the country.
Masaki Asano, Deputy MD, India Yamaha Motor Pvt Ltd said, "The year 2012 has been an exceptional year for us as we were able to launch our first scooter 'Ray'. Our core target audience for Ray, the young urban Indian women, has responded to the Ray positively."
The company is targeting to sell a total of 5 lakh units in the country this year and out of which it is aimin to sell 2 lakh scooters.