Visually impaired masseurs of Pune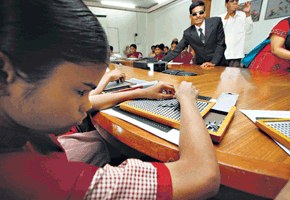 Pune, April 29: Several visually-impaired girl students in Pune are being given training in basic physio-therapy and massaging techniques to enable them become self-reliant in life.
These enterprising girls despite their visual impairedness are being provided opportunities to become professionals in life.
The training is part of a four-year vocational training programme conducted at The Pune School and Home for the Blind aims to enable women self-reliant.
Sandhya Nagarajan, Training Co-ordinator of the course said that the girls are being trained in all the aspects of the body massage and related intricacies.
"These girls have been trained in how to approach the plank, how to drape the clients, how to make them sleep and make them sit. Besides being trained in these small things, they have been trained in how to massage and which massage for which body part," said Sandhya Nagarajan, Co-ordinator
(Training), Pune School and Home for the Blind.
The school is partly funded by the state government and the innovative course for the visually-impaired girls mooted by it is a step towards their empowerment.
Meanwhile, students are delighted to have got an opportunity to get such a training to become self-reliant in life.
"This is my first year in the vocational training centre and I''m fortunate that I have got admission here and I feel very fortunate," said Mehafaz, a visually impaired student in massage therapy, Pune School and Home for the Blind.
A batch of 150 girls is being trained in body massaging techniques at present.
The first batch of the course will pass out just prior to the May Day and most of them have already got many job offers.
Lady clients, having already availed the healing touch of these girls during their in-house training sessions, also have also appreciated and come forth on an encouraging note to take their services periodically. (ANI)