US set to reduce Belarus embassy staff to bare minimum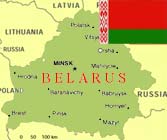 Minsk  - The US was preparing to reduce the staff in its embassy in Belarus to a bare minimum Friday as relations between Washington and the former Soviet republic hit a new low.
Eleven US diplomats were scheduled to leave the country on Saturday, only hours before a Belarusian government order to leave within 72 hours expired.
Only four US citizens will remain at the legation after the 11 diplomats depart, Belapan news agency reported.
Aleksander Lukashenko, Belarus' authoritarian president, declared the US State Department employees "persona non grata" on Wednesday.
Although technically still in operation the embassy will offer practically no services, once the 11 diplomats leave the country.
Already-bad relations between Minsk and the US began plummeting in November after Washington hit Belarus' national energy company Belneftekhim with targeted trade sanctions, as punishment for Lukashenko's poor human rights record.
Belneftkhim earns close to one half of Belarus' foreign currency revenues, and is a key factor in an ambitious Lukashenko plan to wean Belarus from Russian oil and gas dependency by deploying Belneftkhim technicians and equipment to develop energy in Venezuela and possibly Iran.
Belarus retaliated in March by kicking out the US ambassador and 17 other embassy workers.
The US embassy in Minsk had by the end of March halted visa processing for Belarusians wanting to travel to America, and most services for US nationals, due to lack of staffing.
US State Department spokesman Sean McCormack said Washington was "considering its options" on responses to the Belarusian actions.
The US has made the release of Aleksander Kozulin, a politician serving a 66 month jail term for organizing mass demonstrations against Lukashenko, a condition for better relations.
Lukashenko in a Tuesday state of the nation speech rejected the idea out of hand.
Lukashenko has ruled Belarus practically unchallenged since taking over the country in a 1996 constitutional coup. The international community led by the US has made him a pariah for his authoritarian institutions including state-controlled media, a secret police, and a rubber stamp parliament. (dpa)