US can ill afford to ignore terror safe havens in Pakistan: Clinton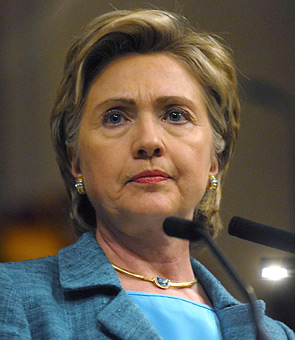 Washington, Dec. 2 : US Secretary of State Hillary Clinton has said that it is imperative to demolish the syndicate of terrorism that operated out of the border region between Afghanistan and Pakistan, and that Washington can ill afford to ignore the fact that Pakistan is a terror safe haven.
Addressing American business executives, Clinton underlined that the US cannot afford to overlook threats emanating from 'far-off places', as it can have catastrophic effects, which was evident from the 9/11 attacks.
She said that it was important that Washington remained committed to Pakistan, which is facing an existential threat from the Al-Qaeda.
"It is also in Pakistan where, after all, they (Al Qaida terrorists) have found safe haven and where we have a nuclear-armed country facing increasing challenges to its writ of authority," The Dawn quoted Clinton, as saying.
"We have made a commitment to provide more assistance to Pakistan that is going to be accountable and transparent, but which we hope sends a message to the people of Pakistan that there is a better future," he added.
Commenting on President Obama's revamped Afghan strategy, the top US official said the new policy demonstrated that the US is committed to take on the continuing threat from not only those who want to destroy Afghanistan, but Pakistan also.
"The US is committed to taking on the continuing threat of those who not only are fighting to destabilise Afghanistan, but beyond that, Pakistan, the larger region, and continue to assault and threaten our own country, our interests, and our values," Clinton said.
The Obama administration, she said, believes that the stability of countries far away like Afghanistan and Pakistan is directly related to America's own security.
"As long as countries like that struggle to control their borders, extend their sovereignty, the door is open to the bad actors," she said. (ANI)