UK to send more troops to Afghanistan
Submitted by Sahil Nagpal on Fri, 08/08/2008 - 20:52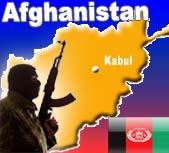 London, Aug. 8 : More troops may be sent to Afghanistan to help fight the Taliban, British Defence Secretary Des Browne has hinted.
Military chiefs have been in discussion to almost double troop numbers in Afghanistan, the Telegraph reports.
Senior military officers have held preliminary talks about troop strengths and believe increasing numbers up to approximately 14,000 from the current 8,200 may be necessary to defeat the Taliban.
Browne, who was on a visit to Afghanistan's Helmand Province on Thursday, said: "I have, twice or three times now, increased that force level. I am willing to do that if that''s the military advice."
He denied that the force in Iraq would be reduced in order to release numbers for Afghanistan.
Senior officers, including generals, have debated significantly expanding the Afghanistan force by early next summer in order to end the Taliban insurgency and to secure towns that have already been captured.
British forces in Afghanistan have suffered 17 casualties in a bloody period since the start of June. (ANI)