Two held for alleged links with Ahmedabad blasts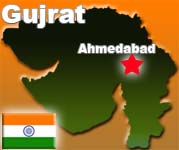 Ahmedabad, Sept 16 : The city crime branch has arrested two more persons in connection with the Ahmedabad serial blasts that took 55 lives.
Police have also released photographs of four more suspects for their alleged involvement in the blast.
According to sources, the two persons arrested belong to Juhapura and Bapunagar areas of Ahmedabad.
At least 16 bombs exploded in Ahmedabad on July 26, a day after another set of blasts in Bangalore killed a woman. Three days later, several unexploded bombs were found in Gujarat''s Surat town.
A little-known group called the "Indian Mujahideen" had claimed responsibility for the Ahmedabad attacks. But police said Indian Mujahideen was just "another identity" for SIMI.
SIMI, a Muslim group has been blamed by police for almost every major bomb attack in India, including explosions on trains in Mumbai two years ago which killed 187 people. (ANI)