Treasury Bond Daily Commentary for 4.22.09
The downtrend is really taking hold today as the 30 Year T-Bond futures look to fall beneath 4/20 lows. Volume is picking up and we notice a tight positive correlation with U. S. equities. The pressure remains to the downside as the 30 Year futures trade well below our 2nd and 3rd tier downtrend lines.
The futures are headed towards fundamentally significant territory, particularly March lows. Though the lows seem far away right now, they could be reached faster than one may anticipate. The negative performance of the 30 year creates an interesting scenario.
The Federal Reserve is trying to keep rates low by using quantitative easing. However, the governmental purchase of its own debt may not be sufficient enough to satisfy the massive supply need to fund the stimulus measures.
It's difficult for us not to maintain our negative outlook on the 30 Year futures with few positives working in their favor. Fundamentally, we find resistances of 125.19, 125.53,
125.81, 126.20, and 126.69.
To the downside, we see supports of 124.78, 124.35, 124.03, 123.69, and 123.34. The 30 Year T-Bond futures are presently trading at 125 01.0.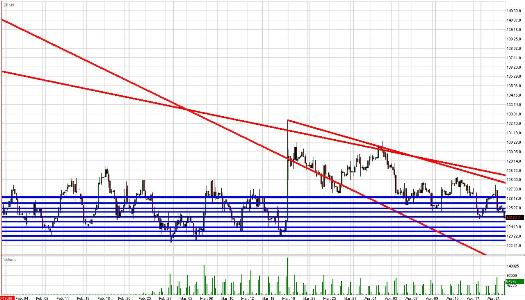 Copyright 2009 FastBrokers, Latest Forex News and Analysis for Forex, Bullion and Commodity Traders. 
Disclaimer: For information purposes only. FastBrokers assumes no responsibility or liability from gains or losses incurred by the information herein contained. There is a substantial risk of loss in trading futures and foreign exchange.