Torrent Cables Soars To A 52-Week High On Strong Q1 Results
Torrent Cables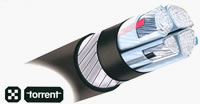 rose 2.47% to Rs 224.20 in afternoon trading after it announced a 178.63% increase in net profit in Q1 June 2007. The company announced the results during the market hours.
In the meantime, the BSE Sensex was down 12.47 points, or 0.08%, to 15,298.75.
The scrip touched an intraday high of Rs 240.65, which was its 52-week high, and an intraday low of Rs 220.15 during the day. The stock had hit a 52-week low of Rs 94 on 27 July 2006.
On BSE, there were 1.91 lakh shares for trading in the scrip. The average daily volume of the stock was 10,325 shares on BSE in last one quarter. The company's equity capital stood at Rs 7.50 crore, with 75 lakh outstanding shares of a face value of Rs 10 each.
The scrip had acquired 30.70% in one month to 16 July 2007 against the Sensex's 8.11% increase. It had added 31.89% in the past three months versus the Sensex's 12.52% return.
Torrent Cables' net earnings zoomed 178.63% to Rs 7.31 crore in Q1 June 2007 as compared to Rs 2.94 crore in Q1 June 2006. The company's sales were up 31.76% to Rs 560.4 crore in Q1 June 2007 (Rs 425.3 crore).
Torrent Pharmaceuticals is the flagship company of the Torrent Group. It makes power cables and control cables.