Three dead in attack on mosque in Azerbaijan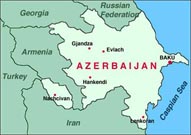 Baku/Istanbul - Three people were killed and three injured when an attacker threw two hand grenades into the Abu Bekir Mosque in Azerbaijan's capital Baku, the national news agency Trend reported Monday.
The attacker first smashed a window of the mosque and then launched the hand grenades, the report said.
The mosque is predominantly used by Wahabbis, a particularly strict Sunni version of Islam which is state religion in Saudi Arabia but did not use to be widespread in Azerbaijan in the past.
In Azerbaijan, 86 per cent of the population are Muslim. Most of them are Shiite but many do not practice their religion.
However, religious practice is on the rise especially among younger people in the former Soviet republic on the Caspian Sea which borders Georgia, Armenia and Iran.
Whilst the activities of Wahabbist Muslims in the country are considered controversial, the government has declared Wahabbi groups would not be banned.
However, religious books banned by law were seized from the Abu Bekir mosque last year. (dpa)