Syndicate Bank Intraday Buy Call
Submitted by Shalini Kakkad on Fri, 02/04/2011 - 15:26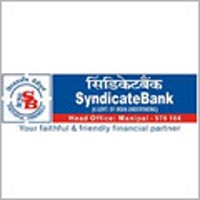 Technical analyst Jatinder Sharma has maintained 'buy' rating on Syndicate Bank stock with a target of Rs 121.
According to analyst, the stock can be bought with a stop loss of rs 108.
The stock of the bank, on Feb 03, closed at Rs 113.20 on the Bombay Stock Exchange (BSE).
The share price has seen a 52-week high of Rs 164.20 and a low of Rs 80 on BSE.
Current EPS & P/E ratio stood at 17.76 and 6.45 respectively.
On account of higher core earnings, Syndicate Bank has registered a 24.5% growth in its net profit, which stood at Rs 256.1 crore for the three month period December 2010.
Whilst the total income grew by 17.9% to Rs 3,156.8 crore, the operating profit surged 67.6% to Rs 712.1 crore.
Public sector lender said that its net interest income surged 60% to Rs 712.1 crore. NIL also bettered to 3.6% from 2.5% an year earlier.
The company's overall biz surged 18% to Rs 225,910 crore.
Gross non performing assets (NPAs) fell to 2.32% from 2.43% during 2009.
Bank's net NPAs came down to 0.95% as against 1.02%.
The bank's CAR fell to 11.7% from 13.5 per cent last year
Technology Sector