Superstitious Sehwag backed Sri Lanka to see India through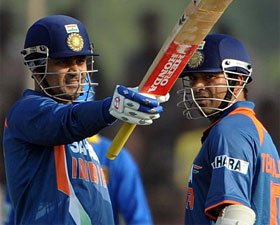 Rajkot, Dec 15 : When cricket fans across the country were praying for India to win, one man in the middle of the action was supporting Sri Lanka to chase down 414.
Virender Sehwag's blazing 146 was the backbone of India's highest ODI total, but the opener himself was favouring the Lankans in those tense final overs, to bring luck to his side.
"I have this superstitious. If the team is going through a bad phase, I support the other team, then India win," Sehwag said.
"Whenever I support India, we lose. So, I was not tense because I was supporting Sri Lanka," said man of the match Sehwag.
Sehwag, who struck 17 fours and one six in his 102-ball innings, said it was his best ODI knock.
"It is my best knock in One-Day Internationals. I was not scoring big runs in ODIs. I was getting out in 30s and 40s. So I thought I should make the most of my good form. I got runs in Tests and T20s, so told myself that I should utilise the form."
Sehwag and Sachin Tendulkar (69) laid the foundation of the big total with a 153-run stand.
"When we were batting, we thought the pitch was good for batting and were aiming for 350. But then MS (Dhoni) played really well and raised the bar."
Skipper Dhoni said he was tense in the final overs.
"It's quite tough to be cool when you score 400 and almost lose it."
"Our bowling and fielding was not up to the mark in the first 35 overs, maybe we just accepted that the wicket had got better and were not focussed. But then we bowled well and the fielding in the last 10 overs also improved."
Dhoni said the team would learn its lesson from the match.
"You cannot afford to drop catches of set batsmen, then you are inviting trouble."
"Also, we could have scored 450, which would have been an 'above-par' score."
Kumar Sangakkara praised his team for their fightback.
"It is actually worse when you come this close and lose and rather than lose easily. Most of the time you can roll over and die chasing over 400, but we almost made."
"After 35 overs, we should have batted smartly. India held their nerve better than us. At the end of the day, you have to acknowledge that India played better than us."(IANS)