Submerged ancient Thracian city to see daylight in Bulgaria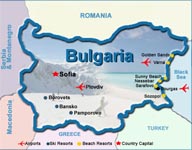 Sofia  - Discovered under centuries-old layers of dirt in 1948, then submerged under 20 metres of water, the ancient city of Seuthopolis is to emerge once again in a bold rescue project.
The magnificently preserved city, founded by the Thracian king Seuthes III in 323 BC, was discovered in central Bulgaria during the construction of a dam on the Tundzha river.
Despite the stunning discovery, Communist authorities went ahead with the dam and created the Koprinka reservoir six years later, in 1954, flooding Seuthopolis under 150 million cubic metres of water.
Now, a 150-million-euro (192-million-dollar) project by Bulgarian architect Jeko Tilev aims to right the wrong and expose the polis at the bottom of the reservoir to archaeologists and tourist by creating a dry well 20 metres deep and 420 metres across.
Once in place, the 1.27-kilometre wall, effectively a round pier, would allow further exploration and the reconstruction of five hectares now at the bottom of the reservoir, 160 kilometres east of Sofia near Kazanlak.
Visitors will arrive to pier in the middle of the lake by boat and observe the city from a height of 20 metres or descend to ground level by glass-encased elevators, gliding along the tilted walls, all of it illuminated at night.
Seuthopolis lies in the "Valley of Thracian Kings" in the Stara Zagora region. It is the best-preserved city in what was Thracian land, which covered parts of today's Bulgaria, Greece and Turkey.
The city consisted of fortified settlement on an area of 5 hectares and several suburbs. King Seuthes had built his city on the ruins of an older palace complex and a Thracian settlement.
"Seuthopolis belongs to the treasury of the world cultural heritage," says Tilev, who volunteered his services and was given the green light to proceed from the Bulgarian government.
A task group laid out the crucial details of the project in February. The financing would involve the European Union and the so- called public-private partnerships.
Potential donors have already come forward from neighbouring Greece, as well as the Netherlands and Kuwait.
"The exploration of Seuthopolis was not nearly ended," says archaeologist Maria Chichkova, a member of the team excavating the site between its discovery and submergence half a century ago.
Apart from scientific value, Seuthopolis would also become a major tourist attraction and source of revenue.
On the internet: www. sevtopolis. suhranibulgarskoto. org (dpa)