Subdued Detroit auto show reflects economic realities
Submitted by Chris Cermak on Wed, 01/14/2009 - 13:33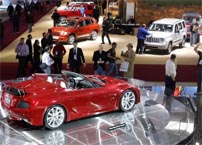 Detroit  - US carmakers have to walk a very fine line at this year's Detroit auto show, keenly aware of the economic realities that hovered over what is usually a glittering affair.
After pleaded with the US Congress for emergency loans to stay alive, US manufacturers are being careful to avoid the kinds of expensive-looking exhibits that could smack of hypocrisy - and a waste of taxpayer money.
But with car sales plunging by more than 35 per cent from October to December, carmakers still need this month's automotive show to generate fresh excitement for their suffering product lines. The show opens to the public on Saturday and runs until January 25.
Detroit's delicate balancing act, during the three-day media preview this week, led to a more business-like event that focused on the cars themselves, rather than the pomp and ceremony that usually accompanies them.
"A lot of (carmakers) have taken away the frivolity that might have been there in the past," said Jay Ward, a spokesman for Ford Motor Co. "This year, we've gone back to basics."
Gone was General Motors Corp's fashion show, which in past years was used to role out their new product line. Chrysler LLC backed away from taking over a bar opposite Detroit's Cobo Centre, where journalists once enjoyed free snacks and beer after reviewing the show.
The show's sober attitude was "keeping with the tone of the times," GM chief executive Rick Wagoner told reporters, adding that GM saved 10 million dollars on its stand in the process.
"People almost uniformly have tasteful exhibits, but it looks less elaborate than what we've seen in recent years, and I think it's the right thing to do under the circumstances," Wagoner said.
Ten million dollars in savings is a pittance compared to GM's and Chrysler's 17.4-billion-dollar bail-out by the federal government last month.
But the toned-down event is as much about what the public and media expect as it is about the industry's economic realities.
"There's an element of perception as being very important in all of this," said Ward.
As an example, Ward points to the lack of food and drink stands for journalists wandering the exhibits this year. Hardly a costly thing to offer, but had they done so the media "might have written 'Is this Ford squandering their hard-earned resources?'"
While the pressure was mostly on domestic carmakers, foreign competitors were aware that they, too, could provoke a public backlash if they spent lavishly on frivolity during a global economic meltdown.
Foreign manufacturers have suffered sharp drops in US sales, too. Most even supported the federal bail-out of GM and Chrysler, fearful that their collapse would threaten the parts suppliers and dealers that all carmakers rely on.
Honda Motor Co passed up the opportunity to hold a press conference in addition to their stand, even though the Japanese carmaker was unveiling a highly anticipated new model, the Honda Insight, a hybrid car it hopes will compete with Toyota Motor Corp's best-selling Prius.
Honda spokeswoman Christina Ra said that all carmakers were being careful to stick to business this year, rather than provide entertainment.
"We're not immune to what's going on," Ra said. (dpa)