Steel makers cut flat product prices to battle cheaper imports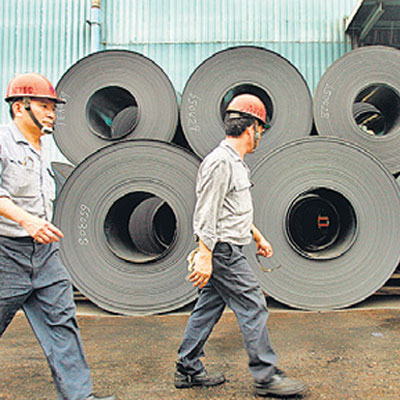 In a bid to better cope with cheaper imports, Indian steelmakers have marginally slashed prices of their flat product like hot-rolled coil (HRC).
JSW Steel slashed the prices of hot rolled coil by Rs500-750 per tonne and prices of wire rod by Rs500 per tonne from the start of April.
Without divulging details of planned price cuts, a spokesperson for Essar Steel said that the company would lower prices of some of its commodity grade flat steel products in April.
Analysts have attributed the cut in prices to the combination of rupee appreciation and declining steel prices in the international market.
However, steel makers are reportedly planning to increase the prices of long product TMT bars again this month.
It may be noted here that flat products are mainly used in manufacturing automobiles and white goods, while TMT bars are chiefly used in construction industry.
Giriraj Daga, an analyst with Nirmal Bang Securities, said, "Long product prices can be sustained over next two months, as before monsoon construction activities are at their peak in April, May. Flat price had to see some correction to remain competitive against the import parity price."
Steel makers usually hike prices of TMT bars during January and May as this period often see increase in demand for steel bars as construction activity accelerates during this period. In past three months, steel makers have increased the prices of long products like TMT bars by Rs 1,000-1,500 per tonne.