Socrates appointed premier, strengthens position in local poll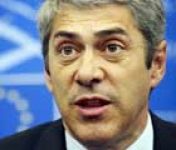 Lisbon - Portuguese President Anibal Cavaco Silva Monday designated Socialist leader Jose Socrates as prime minister following his victory in the September 27 parliamentary elections, while Socrates' party reinforced its position in Sunday's local elections.
Cavaco Silva appointed Socrates prime minister and tasked him with submitting his second government programme to parliament.
Socrates announced he would start talks with the other parties in view of forming a government. It was also thought possible he might head a minority government after losing his absolute majority in the parliamentary elections.
The Socialists meanwhile strengthened their position in Sunday's local elections, according to definitive results released Monday.
They now have a majority in 131 of Portugal's 308 municipal councils, up from 110 previously, in what Socrates described as a "good result."
The conservative Social Democratic Party (PSD) will govern 138 cities, down from 157.
Socialist mayor Antonio Costa won re-election in Lisbon and conservative Rui Rio held onto power in second-largest city Porto. Voter turnout stood at 40 per cent.
The local elections were overshadowed by a killing at a polling station in the northern village of Ermelo, where a Socialist candidate shot dead the husband of the conservative mayor who was challenging him in the poll.
Some witnesses claimed the victim had first fired at the killer. It was suspected that the killing was linked to political rivalries or a family feud.
Police continued searching for the killer in a nearby forest. (dpa)