Smith says there is nothing wrong in Flintoff's decision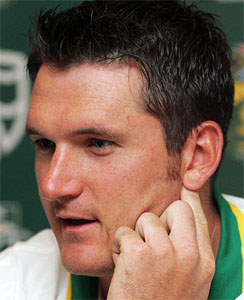 London, Sep 20 : South African skipper Graeme Smith has defended Andrew Flintoff decision to become a freelancer, and said like all professional sportsmen he wants to earn the best money he can.
The decision of Flintoff to not sign a new contract with the ECB has sparked a massive club vs country clash of interests across in every major cricketing nation.
"I don't think you can blame Fred for the decision he's made," says Smith.
"He wants to maximise his worth and to control the few good years he has left," The Sunday Express quoted Smith, as saying.
"There is too much cricket at the moment. Look at the one-dayers in England at the moment – with respect, they are more for financial benefit than meaningful cricket," he added. (ANI)