Sibal to Kejriwal: 'Provide evidence against me in two days or resign as CM'
Submitted by Mohan Kumar Shr... on Sat, 02/01/2014 - 20:21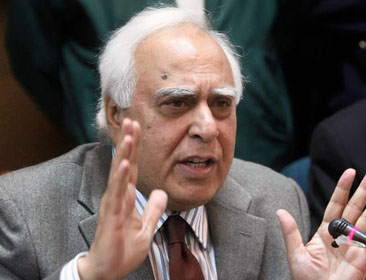 New Delhi, Feb 1 : Minister of Communication and Information Technology Kapil Sibal on Saturday criticized Delhi Chief Minister Arvind Kejriwal for naming him in the list of corrupt leaders, and said Kejriwal should leave his position if he is making baseless allegations without proof.
"I am surprised that a person holding the CM's post is making such allegations against me. Till today, after holding many respectable positions, as a lawyer, or a teacher or in politics, no one has ever named me in any allegations. I am very surprised that he called me corrupt," he said.
"I will give him two days time to collect evidence and prove all charges made by him. If he is able to prove his accusations against me, I will resign from my post and quit politics. But if he is making baseless allegations, then he must leave his position," he added.
Kejriwal on Friday read out his list, and urged AAP members to treat this year's general election as a revolution to cleanse the nation's politics.
Kejriwal's list included Congress leaders' Rahul Gandhi, P Chidambaram, Sushil Kumar Shinde, Veerappa Moily, Salman Khurshid, Kapil Sibal, Kamal Nath, BJP leaders Nitin Gadkari, B. S. Yeddyurappa, Anant Kumar, Anurag Thakur, and others like Mayawati, Mulayam Singh Yadav, Sharad Pawar, Farooq Abdullah and Jagan Mohan Reddy.
Addressing a party meet ahead of discussions in the Delhi cabinet on the party's proposed anti-graft Jan Lokpal Bill that seeks to punish corruption with a maximum sentence of life in jail, Kejriwal said: "Don't let a single corrupt politician enter Parliament."
"We have not come to play politics, we have come to remove corruption. Our aim should be that not a single corrupt person exists in Parliament," he said.
"We are providing an option to the people of the country, and the country has to work to make sure that not one corrupt person is elected to Parliament ," he added. (ANI)
Technology Sector