Sensex snaps two-week winning spree, tumbles 646 points
Submitted by Dalbir Sahota on Sat, 08/02/2014 - 18:05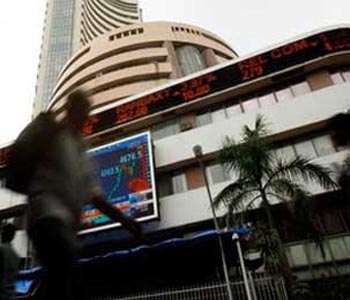 Mumbai - The benchmark S&P BSE Sensex snapped its last two-week gaining spree, tumbling 646 points to end below 26,000 level at almost three-week low of 25,480.94 on cautious approach adopted by operators and retail investors ahead of the RBI's monetary policy next week.
Offloading long positions from operators in view of expiry of July-contract on Thursday, weak global cues, continuing geo-political tensions also affected the sentiment.
Weakness in the rupee against the dollar, as the domestic unit touched 61-mark after three months, was also the factor behind fall in share values.
Shares of capital goods, refinery, metal, power, realty, PSU, consumer durables, IT, auto and banking declined sharply on heavy selling pressure.
Small-cap shares also moved down on fresh selling from retail investors.
"The overall sentiment also remained downbeat after India's fiscal deficit crossed half the budget estimate in the first three months of the fiscal," said Jayant Manglik, President-retail distribution, Religare Securities.
The Sensex resumed higher at 26,173.47 and moved up to 26,181.83 but declined afterwards to 25,459.13 before ending at 25,480.84, showing a loss of 645.91 points or 2.47 pct.
It had gained by 1,102.40 points or 4.41 per cent in the previous two weeks.
The NSE 50-share Nifty also fell by 187.85 points or 2.41 per cent to 7,602.60.
Globally, the US Fed's decision to continuing with gradual tapering and reducing asset purchases by another USD 10 billion/month triggered concerns that flows into emerging market would slow. Besides, risk-aversion was seen due to reports that Argentina has failed to strike a deal to avert its second default in more than 12 years, affecting sentiment.
Construction and engineering giant Larsen and Toubro (L&T) tumbled by 11.13 per cent on weak Q1 earnings.
However, Bharti Airtel, the top gainer from the Sensex rose 7.02 per cent on excellent Q1 results.
Foreign Portfolio Investors (FPIs) sold shares worth a net Rs 2,746.24 crore during the week as per SEBI's record including the provisional figure of August 1.
Twenty-four scrips out of the 30-share Sensex pack ended lower while remaining six finished higher.
Other major losers were Tata Power (5.85 pct), NTPC (5.51 pct), Tata Motors (4.85 pct), Coal India (4.45 pct), RIL Ind (4.24 pct), Hindalco Ind (3.81 pct), ONGC (3.65 pct), TCS (3.40 pct), SSLT (3.25 pct), M&M (2.88 pct), Wipro (2.63 pct), SBI (2.47 pct), Axis Bank (2.43 pct), HDFC Bank (2.42 pct), HDFC (2.34 pct), Bajaj Auto (2.16 pct), ITC (2.06 pct) Tata Steel (1.43 pct).
However, other gainers from the Sensex pack were HUL 4.81 pct and Maruti Suzuki 3.21 pct.
Among the S&P BSE sectoral indices, Capital Goods fell by 7.89 pct followed by Oil&Gas 3.01 pct, Metal 2.91 pct, Power 2.75 pct, Realty 2.67 pct, PSU 2.54 pct, CD 2.25 pct, IT 1.99 pct, Auto 1.79 pct and Bankex 1.22 pct.
Dollex-30, Dollex 100 and Dollex 200 indices also fell sharply by 4.13 pct, 3.66 pct and 3.50 pct respectively.
The total tunrover at BSE and NSE fell to Rs 11,998.28 crs and Rs 73,179.24 crs respectively from the last weekend's level of 15,645.76 crs and Rs 80,500.22 crs. (PTI)
Technology Sector