Sen Sisters Starring In Rituparno's, 'Naukadubi'
The Sen sisters who are presently shooting at famous Shantiniketan ,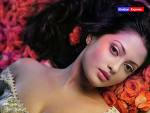 West Bengal where their grandmother 'Suchitra Sen' was a student will be seen together in Rituparno's direction 'Naukadubi'. 
The story is based on Rabindranath Tagore's novel with the same title. It is not for the first time adaptation of the novel for the screen is as similar attempt was done in 1947 by Nitin Bose, with Dilip Kumar as the star in Hindi version and Abhi Bhattacharya in Bengali version.
Riya and Raima Sen, the real sisters will be seen together in the film as women undergoing hardships in marital life. Though both of them are working together on the same set yet it is Riya Sen who is being pampered by the Director who considers her as his own daughter. Jishu Sengupta of 'The Last Lear' fame is starring as Riya's co star in the film.