Sell Shree Renuka Sugars With Stop Loss Of Rs 80.50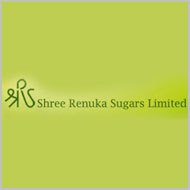 Technical analyst Mitesh Thacker has maintained 'sell' rating on Shree Renuka Sugars Limited stock with targets of Rs 73 and 69.
According to analyst, the stock can be sold below 77.25 with stop loss of Rs 80.50.
Today, the stock of the company opened at Rs 78.45 on the Bombay Stock Exchange (BSE).
The share price has seen a 52-week high of Rs 108.15 and a low of Rs 53 on BSE.
Shree Renuka Sugars Ltd (SRSL) announced that its consolidated net profit declined 75 per cent to Rs 66.4 crore for the three month period ended December 31, 2010.
India's biggest sugar refiner said that it recorded loss as higher costs offset the growth in sales.
SRSL had registered a net profit of Rs 260.9 crore during the same period of last year.
The company's net sales surged more than 57% to Rs 2,247 crore as compared to Rs 1,428.7 crore during the corresponding period of 2009.
However, total costs grew significantly by 82.32% to Rs 1,946.5 crore as against Rs 1,067.6 crore during the review period.
The company's consolidated outcomes comprised SRSL's operation in Brazil.
SRSL got hold of a majority equity stake in Brazilian firm Group Equipav's sugar biz during the last year (2010).
The company had purchased Brazil-based sugar and ethanol production firm Vale Do Ivai SA Acucar E Alcool during November, 2009.