Rupee falls for fourth straight day; down 8 paise to 61.81 against dollar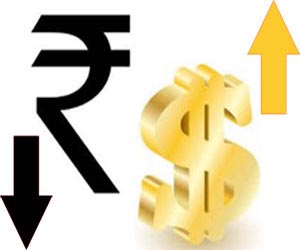 Mumbai - Continuing its falling streak for the fourth straight day, the rupee lost another 8 paise to 61.81 against the US dollar in early trade on Tuesday at the Interbank Foreign Exchange due to increased demand for the US currency from importers.
Forex dealers attributed the rupee's fall to increased demand for the dollar from importers but the euro's strength against the US currency and a higher opening in the domestic equity market capped the fall to some extent.
The rupee had depreciated by one paisa to close at 61.73 against the US currency in the previous session on alternate bouts of demand and supply amid rise in dollar value overseas.
Meanwhile, the benchmark BSE Sensex rose by 82.78 points, or 0.29 percent, to trade at a new lifetime high of 28,260.66 in early trade today, surpassing its previous record of 28,205.71 (intra-day) touched yesterday. (PTI)