Romanian lost in Australia's Outback rings home for help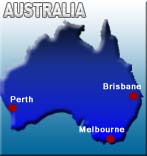 Sydney - A Romanian tourist lost for six days in the 40-degree heat of Australia's Red Centre used his mobile phone to ring home and arrange a helicopter rescue, news reports said Thursday.
He set off last week on a 45-kilometre trek from Uluru, formerly known as Ayers Rock, but ran out of water within three days of his Northern Territory trip.
He turned back and rang home when he was in mobile range, giving his coordinates from his Global Positioning System. Australian police were alerted and a helicopter dispatched.
Northern Territory Police officer Kerry Harris said the rescue should serve as an object lesson to other would-be explorers.
"This particular individual was an experienced hiker who had trekked through South America and Asia," he said. "But even someone with his experience almost failed to survive. He failed to take enough water and clearly failed to anticipate the reality of hiking in such extreme temperatures as we have in central Australia."
Senior Constable Harris said desert rescue cost time and money.
"It's extremely frustrating for police when people, especially overseas tourists, take themselves off into the desert without proper equipment, food, water, suitable clothing and footwear," he said.
"They fail to understand the rigours of the environment and when they get into trouble it's virtually impossible to find them because of the vastness and terrain of the area." (dpa)