Roche Molecular West Nile Virus Test Gets FDA Nod
The automated West Nile virus test conducted by Pleasanton's Roche Molecular Systems Inc. has won U.S. Food and Drug Administration authorization
It is the second FDA sanctioned examination for identifying the virus in blood and organs.
San Diego's Gen-Probe Inc. developed the initial test, which is marketed by Emeryville's Novartis Vaccines and Diagnostics Inc., part of Novartis AG.
Both the examinations are capable of detecting the genetic material of the virus itself during an early stage in the infection.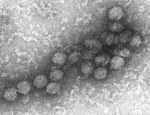 Few people infected with the virus show the disease signs but around1 in 150 to 1 in 350 infected people will develop grave indications, such as encephalitis, an inflammation of the brain.
The virus has been particularly dangerous this year, the FDA stated in a report about the sanction.
In California this year, 164 human cases of the virus have been reported thus far, out of which, 8 in Sacramento County and 1 in Yolo County. About 278 human cases of the virus were reported statewide during the last year.
According to the FDA, since 1999, when the virus emerged initially in the U.S., the reported number of human cases of grave West Nile virus in the state has arisen progressively from 62 in 1999 to 4,269 in 2006.