Rahul Gandhi's 4-day tour to tribal areas of MP, Chhattisgarh begins today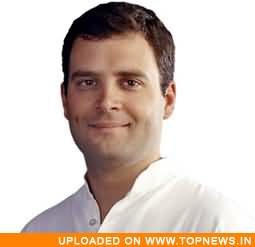 New Delhi, Apr 25 : Congress General Secretary Rahul Gandhi will today carry forward his 'Discover India' tour by undertaking a four-day visit to tribal pockets in Madhya Pradesh and Chhattisgarh.
Party spokesman Abhishek Singhvi told reporters here that Rahul's third phase of the 'Discover India' tour should be viewed as a 'holistic continuity' of 'some of the most unique, unprecedented, innovative, creative, special focus programmes' for the tribals led by the Congress-led UPA Government since 2004.
He, however, said that Rahul's visit to Jharkhand has been postponed.
When a senior media person asked Singhvi whether Rahul Gandhi was the only General Secretary of the party who was traveling around the country to interact with the underprivileged sections of society, the spokesman had no reply.
Rahul Gandhi had launched his 'Discover India' tour from Orissa on March 7 with a focus on two of his favourite themes - The Tribals Bill and the National Rural Employment Guarantee Scheme (NREGS).
The four-day visit had commenced from the poverty-stricken and underdeveloped Kalahandhi area and moved deep into the Niyamigiri Hills, where he met members of the Dongria Khand tribe in the Ejrupa village.
He followed this up with a five-day visit to Karnataka, interacting with Dalits and tribals, besides socially underprivileged sections of society.
That visit from March 25 to 29 saw Rahul Gandhi barnstorming through 10 districts of Karnataka, starting from the southernmost Chamarajanagar District, which borders Tamil Nadu.
He also visited the districts of Mysore, Mangalore, Hubli, Dharwar, Gadag, Bagalkot, Raichur, Bangalore and Bijapur.
These trips by the Amethi MP are also being used to galvanise the youth brigade into coming out in support of the Congress party and to join it in the run-up to a series of State Assembly elections being held across the country.
The Congress also is preparing itself to go into general election mode as the year 2008 closes out in anticipation of the 2009 elections. (ANI)