President, VP, PM greet nation on occasion of Holi
Submitted by Sahil Nagpal on Fri, 03/21/2008 - 16:24
New Delhi, Mar 21: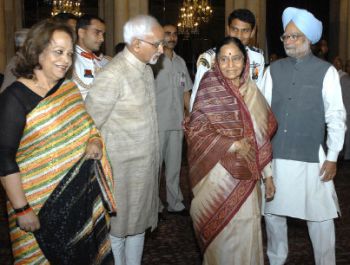 President Pratibha Patil, Vice President Hamid Ansari and Prime Minister Dr. Manmohan Singh today greeted the nation on the occasion of Holi.
In her message, Patil said, "The festival of Holi brings joy and happiness, which imbibes the spirit of friendship among people of all faiths. On this occasion, let us ensure that the less advantaged in society do not remain untouched by the spirit of celebration."
"As the festival of colours is marked by mingling of diverse colours, so let our various cultural diversities come together in celebration, instilling a sense of unity amongst us all," she added.
In a separate message, Ansari said, "Holi, marking the advent of spring, is celebrated across the country with cheerfulness and zest. This festival portrays our great tradition of 'Unity in Diversity' by transcending all distinctions and bridges the social gap by uniting us all in a joyful celebration of sprinkling of colours."
Dr. Singh in his message said that the festival symbolizes the different shades of life and inspires us to rejoice in the glory of nature in all its varied colours. The festival symbolizes the country's spirit of togetherness, harmony and tolerance.
'May the festival bring gaiety, happiness health and prosperity to all', Dr. Singh added. (ANI)