Pakistan nuclear assets are completely safe: Musharraf
Brussels, Jan.21: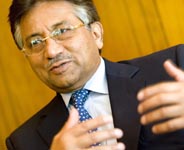 President Pervez Musharraf has said Pakistan nuclear assets are completely safe under the most reliable control and command system, which is foolproof from every point of view.
Addressing a gathering of Pakistani community here, The News quoted Musharraf as saying that, "Pakistan nuclear assets are in safe hands and even any nuclear attack cannot destroy our nuclear assets."
Musharraf vowed that the election would be democratic, and said the goal of his trip was "correcting perspectives" in Europe.
"There will be free and transparent elections," he pledged at the meeting in a Brussels hotel, lauding what he said were improvements in the economy and security under his rule.
Musharraf met members of the Pakistani community on Sunday. His official programme starts today as he is scheduled to visit Britain, France and Switzerland.
The eight-day visit to Brussels, Paris, London and Davos is a wholesome package, with focus on improving Pakistan's image and removing certain misperceptions.  (ANI)