Pak agencies devise strategy to kill Baitullah Mehsud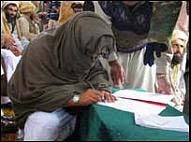 Lahore, Dec 31: Pakistani security agencies have prepared a plan to eliminate militant leader Baitullah Mehsud, head of the Tehreek-e-Taliban Pakistan (TTP), a newly formed coalition of Islamic militants along the Pakistan-Afghanistan border and believed to be linked to al Qaeda.
The plan will be implemented after the Pakistan Government gives a go-ahead in this regard, the ARY channel reported.
The channel quoted Interior Ministry sources as saying that the security agencies had prepared a plan to kill Baitullah after getting evidence about his involvement in the assassination.
The operation would be carried out in South Waziristan, North Waziristan and certain other tribal areas, they added.
The Pakistan Government blamed the December 27 suicide attack on former premier Benazir Bhutto on Baitullah.
TTP chief Baitullah, however, denied any role in this regard, and said that it is against tribal traditions to kill a woman.
To this, Interior Ministry spokesman Brigadier (retire) Javed Iqbal Cheema said: "Baitullah may deny his involvement in the murder, but we have solid evidences that he was behind the killing. "
Earlier, the government had also blamed Baitullah for the suicide attack on Benazir's reception rally in Karachi on October 18 in which over 140 people were killed.
Baitullah also denied that charge. Baitullah formed the TTP "to enforce Sharia and do defensive jihad against the Pakistan Army". (ANI)