Only five percent Arsenal fans want Wenger to stay as club manager, poll reveals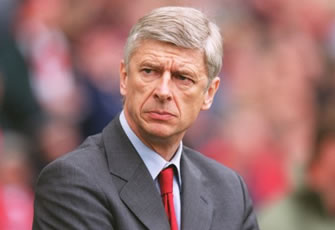 London, Jan 12 : Only five percent Arsenal fans believe Arsene Wenger should stay as club's manager with almost half of respondents from one of Gunners'' biggest supporters'' groups feel boss should go. One of Arsenal's biggest fans' groups feel it is time for manager Arsene Wenger to either change his approach or leave the club, the Daily Mirror reports.
More than 2,300 members of the Black Scarf Movement took part in a wide-ranging survey and 46 per cent admitted they believe Wenger is no longer the best man for his job, the paper reported. Incredibly, just five per cent of respondents felt he is still the best man for the job and in addition, 41 per cent believe he should continue on the condition he changes his approach away from ''Project Youth'' or working to achieve top four on a minimal spend, the paper said.
Wenger has been in charge at the North London club since 1996 and delivered a flood of trophies in his early years, but that success has since dried up.
The Gunners last won a trophy in 2005 and their hopes of ending that drought this season lies in either the FA Cup, where they host Swansea on Wednesday in a third-round replay or an unlikely Champions League triumph, as they are out of the League Cup and 18 points off the pace in the Premier League.
Over two-thirds of those polled are Arsenal season-ticket holders or attend most games, while most of the rest regularly attend matches at the Emirates, the paper concluded. (ANI)