Olympic TT champion Zhang Jike defeats Ovtcharov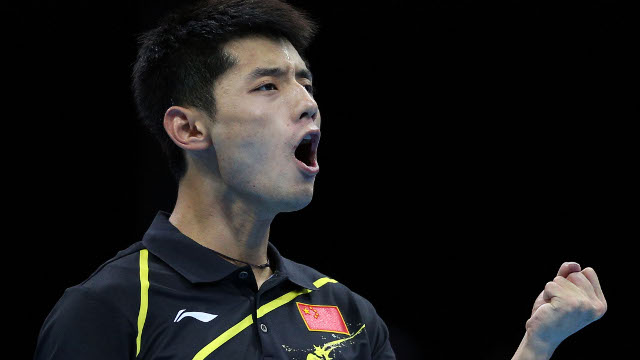 Qingdao (China), March 18 : Reigning Olympic champion Zhang Jike beat German Dimitrij Ovtcharov, bronze winner at the London Games, in straight games at the Asia-Europe Table Tennis All Stars Challenge.
Zhang, the Grand Slam winner, established a 5-1 lead in the first game. Dimitrij fought back and narrowed the gap to one point but still lost to Zhang 11-8, Xinhua reported Sunday.
Zhang, 25, won the following two games with 11-2 and 11-9.
In other four matches Sunday, Jun Mizutani of Japan beat Freitas Marcos of Portugal 3-2, Jiang Tianyi from Hong Kong of China defeated Crisan Adrian of Romania 3-1, world No. 6 Chuang Chih-Yuan of Chinese Taipei won over Samsonov Vladimir of Belarus 3-1 and Joo Saehyuk from South Korea beat Chen Weixing of Austria 3-1.
In total 10 matches of the two-day event, the Asian Team won seven out of them. "We won the series 7-3, but it didn't represent that Asian table tennis lead Europe's so much. You can see some matches are very tough," said Xiao Zhan, the coach of the Asian Team.
Starting from 2009, the Asia-Europe Table Tennis All Stars Challenge is an annual event with the first round held in an Asian city and the second one held in Europe. (IANS)