Obama urges Putin to ease eastern Ukraine crisis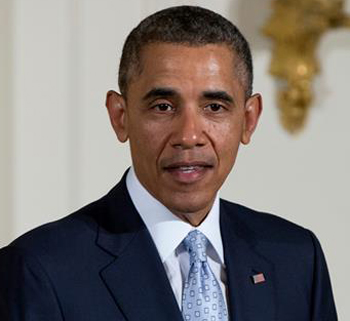 London, April 15 : US President Barack Obama urged Russian President Vladimir Putin over phone to influence the pro-Russian activists to stop their protests in eastern Ukraine, media reported Tuesday.
The telephonic conversation between the two leaders came as the crisis in eastern Ukraine is increasing since the pro-Russian activists continued to occupy buildings in the eastern towns, BBC reported.
The US said the "frank and direct" conversation between the two presidents was made at Russia's request.
"The president emphasised that all irregular forces in the country need to lay down their arms, and he urged President Putin to use his influence with these armed, pro-Russian groups to convince them to depart the buildings they have seized," the report citing a US official statement said.
The statement also warned Russia with wider sanctions, saying "the costs Russia already has incurred will increase if those actions persist".
Putin, however, has rejected accusations of Russia's interference in the ongoing crisis.
The Ukranian government Tuesday launched an anti-terror operation against pro-Russia activists in the eastern city of Donetsk.
"The main purpose of these actions is to protect Ukrainian citizens, to stop terror, crime and the attempts to tear apart our country," Ukraine's acting President Oleksandr Turchynov told parliament.
Turchynov accused Russia of instigating the unrest in Ukraine, and said Moscow planned "to set on fire the country's eastern and southern regions".
Tanks and armoured personnel carriers could be seen parked 70 km (44 miles) from Sloviansk.
Pro-Russian protestors took over government buildings throughout the region earlier this month, and a police station and a state security building were again seized Saturday by armed men dressed in camouflage fatigues in Sloviansk, a town about 100 km north of regional capital Donetsk near the Russian border.
After seizing government buildings in Ukraine's eastern city of Donetsk, the protestors proclaimed the region's independence from Ukraine last week.
Tension has been steadily rising since Russia annexed Crimea last month.
The move, condemned as illegal by Ukraine and the West, followed the ousting of Ukraine's pro-Moscow President Viktor Yanukovych in February.(IANS)