Number of Tesla EV Superchargers crosses 20,000 globally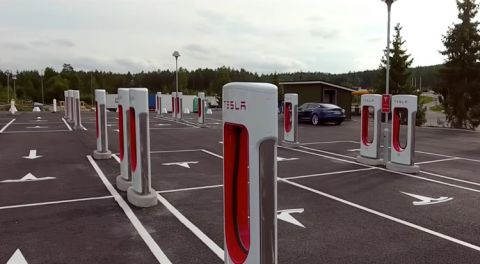 The total number of electric vehicle (EV) Superchargers deployed by NASDAQ-listed tech giant Tesla Motors has crossed the impressive mark of 20,000 globally, CEO Elon Musk announced. Musk, the founder and chief executive officer (CEO) of Tesla Motors, announced that that the company recently launched its 20,000th Supercharging stall, which also means that the total number of the company's EV charging stations surpassed 2,220,if we assume 9 stalls (on average) per station.
According to the Palo Alto, California-headquartered tech giant's claims, its Supercharger network is the world's fastest EV charging network. The company has been, for the last few years, making hard endeavors to expand the network to meet growing demand. With regard to the expansion of the Supercharging network, the company is focusing on urban settings, where the demand is particularly higher.
Tesla had plans to have 18,000 Supercharging stalls in its fast-growing network as of the end of 2018, but the real number of deployed units was at 12,000 by the end of that year. After the delay in 2018, the company accelerated the pace of installing superchargers to meet growing demand amid launch of more and more EVs.
In the month of March 2019, Tesla introduced a totally new architecture for EV charging, known as V3, to accelerate the process of providing EV owners a wider and more easily available network of EV chargers. In May last year, the automobile giant announced its plans to accelerate the process of installing more Superchargers at the earliest possible. A significant aspect is that expansion isn't only in the measurement of number of supercharging stations or stalls per station, but in terms of power as well.
The new V3 Superchargers are rated at up to 250 kW, considerably higher than the V2 Superchargers that were initially rated at around 120 kW.
The company expanded the presence of its Supercharger network in another 42 of Target Corporation stores in September this year, and said it would do more to further expand its destination charging network, in partnership with various resorts, shopping centers, restaurants and hotels.
However, the impressive increase in Tesla's Supercharger network perhaps failed to satisfy shareholders as the company's shares slipped 1.8 per cent to $430 per share.
The rate of deployment of Superchargers is really important and crucial since the world-famous EV maker is attempting to keep up its infrastructure capacity with the new record EV deliveries it recently achieved.