Noida CEO beaten to death by sacked employees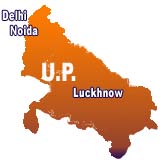 Noida (Uttar Pradesh), Sept 22 : The Chief Executive Officer (CEO) of a Noida company was beaten to death today by some dismissed employees inside office premises following the failure of a meeting, that was called to resolve a dispute between them and the management.
Senior Superintendent of Police (Noida) R K Chaturvedi said that L K Chaudhury, the CEO of Gradiano in Udyog Vihar of Greater Noida, was killed when the agitating workers turned violent and beat him up.
During the clash, a security guard opened fire in air, said Chaturvedi. He added that about 20 people were injured.
Chaudhury was rushed to the Kailash Hospital where he was declared brought dead.
About 200 former employees were present inside the office premises when the incident occured.
The assailants had been dismissed two months back for some reasons. They were protesting against their dismissal since then. (ANI)