No place for violence in democracy: Sibal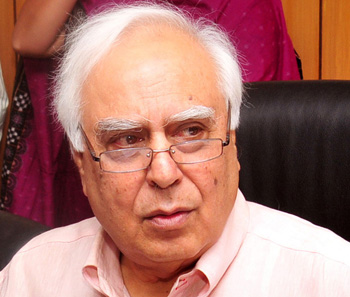 New Delhi, March 6 : Criticising clashes between AAP and BJP workers at the latter's office here Wednesday, Congress leader and Law Minister Kapil Sibal has said there is no place for violence in democracy.
Aam Aadmi Party members held a demonstration Wednesday outside the Bharatiya Janata Party's headquarters here after police briefly detained AAP leader Arvind Kejriwal in Gujarat Wednesday. The protest turned ugly and members of the two parties clashed outside the BJP office.
Speaking on the incident Thursday, Sibal, however, did not name either of the two parties as responsible.
"It doesn't matter whether BJP was responsible or AAP was responsible... the fact is that there is no place for violence in politics," Sibal said.
"How can anyone who aspires to be a member of parliament be booked under rioting act," he told TV channel Times Now.
"Surely the elector does not want those people to go to parliament who are known for hooliganism. There should be decency in contenders, those who debate issues, not throw stones. Rioters should not contest for parliament," he added.
Sibal said Kejriwal's detention in Gujarat was also unfair.(IANS)