New Study Finds Paralysis More Prevalent Than Believed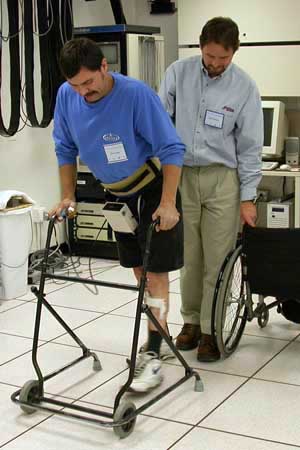 According to a survey published on Tuesday about 5.6 million people in the U. S. have some form of paralysis and nearly a quarter of them have suffered spinal cord injuries.
The survey by Anthony Cahill of the University of New Mexico and colleagues reported that the largest group of 29 % were paralyzed or partly paralyzed by stroke and spinal cord injuries affected 23 %.
The study was funded by the Christopher and Dana Reeve Foundation, which was set up by the actor who was paralyzed in a horse-riding accident in 1995 and died in
2004 while Dana Reeve died from lung cancer in 2006.
The foundation said the aim of the study was to obtain an accurate estimate of people affected by paralysis is to bolster efforts for more research money and to expand health-insurance coverage for those patients, as well as to seek increased services to help them coordinate their care and to deal with secondary health problems such as bed sores and pneumonia.
Peter D. Kiernan III, chairman of the foundation said, "So much of the way decisions are made is based on prevalence." Last month President Barack Obama signed legislation titled the Christopher and Dana Reeve Paralysis Act before it was folded into an unrelated bill that authorizes Congress to set aside $25 million in federal funding for expanded and more coordinated research on paralysis and programs to help those who have trouble moving.
Anthony Cahill, director of the University of New Mexico School of Medicine's division of disability and health policy, and who was the lead investigator for the Reeve study said earlier estimates of paralysis patients was limited as they used smaller geographic areas and medical centers that only handled the sever cases, thereby missing others.
In the current study a telephone survey of more than 33,000 U. S. households was conducted in which participants were asked whether they or anybody else in the household had any difficulty moving their arms or legs. Those who answered yes were included in the count of people with some form of paralysis if their problem was due to a disease or injury that affected the central nervous system, such as a spinal-cord injury, stroke, multiple sclerosis or cerebral palsy. The people who answered yes due to problems such as arthritis were not included in the group.
The researchers reported that, "Thirty-sex percent of those who reported being paralyzed said they had 'a lot of difficulty' in moving, while 16 percent said they were completely unable to move." Some 7% of those with paralysis from an accident or injury said the incident occurred while serving in the military. In the case of accidents with motor vehicles or accidents while working were reported to be the leading causes of spinal-cord injuries.
"Household income for those who reported being paralyzed is heavily skewed toward lower income brackets and is significantly lower than household income for the country as a whole as reported by the United States Census," the researchers said.
"There has not been a good way, previously, of determining the number of people who live in this country with a range of conditions like this," says Gloria Krahn, director of the Centers for Disease Control and Prevention's human development and disability division. "We are very interested in having good data to help us ensure that we are directing activities and health-promotion activities in the right ways."