Nevada Casinos June GGR slips 45.6% year-on-year to nearly $567 million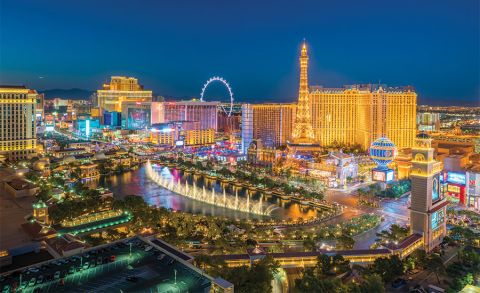 Operating under strict COVID-19 pandemic-induced restrictions and capacity caps, casinos in Nevada generated $566.8 million in gross gaming revenue (GGR) in June. The figure represents a year-over-year decline of 45.6 per cent.
While the gaming industry of Nevada won just nearly half of the dollars in the month of June this year as compared with the same month of the previous year, many analysts are happy to see the ailing industry generating that much, given the fact that casinos are helplessly operating under a number of strict pandemic-induced restrictions and capacity caps.
It may be noted here that Nevada casinos returned to business in June following their months-long closures forced by the federal and state authorities in wake of outbreak of the deadly infection that has claimed more than half a million lives across the globe. Nevada Governor Steve Sisolak ordered gaming properties to suspend operations on 18th of March 18 and allowed them to reopen on 4th of June. The Democratic first-term governor recently warned state residents as well as visitors that failure to stick to the state's health regulations will have consequences. He stressed that all people must comply with face masks and maintain proper social distance from others.
Speaking on the topic, Sisolak said, "To put it bluntly: the time for education is over. Businesses, Nevadans and visitors should all be familiar with the expectations of reduced indoor capacity, required face coverings and social distancing. We are close to 5 months in — no more excuses."
According to the Nevada Gaming Control Board (NGCB), casinos on the Las Vegas Strip won $238.3 million in GGR in June, representing a decline of more than 61 per cent from what they had won in the corresponding month of the previous year when the gaming floors were operating at their maximum capacities.
However, Mesquite emerged as an exception by reporting an increase of 3.2 per cent in its GGR to $10 million. Other Clark County markets, namely downtown Las Vegas, Laughlin, and Boulder Strip reported declines of 56 per cent, 15 per cent and 32 per cent in their GGRs, respectively. Slots, blackjack and baccarat were down 38 per cent, 40 per cent and 70 per cent, respectively, in June. Bingo was the only casino game to report an impressive increase in revenue, of 246 per cent.
Bookmakers reported a loss of $483,000 on bets worth $78 million. That is significantly down from the June 2019's figure of $322 million. However, with the return of MLB, NBA and NFL, Las Vegas sportbooks are expected to swing back to profitability in the near future.