Nepal Army Chief to continue, for the present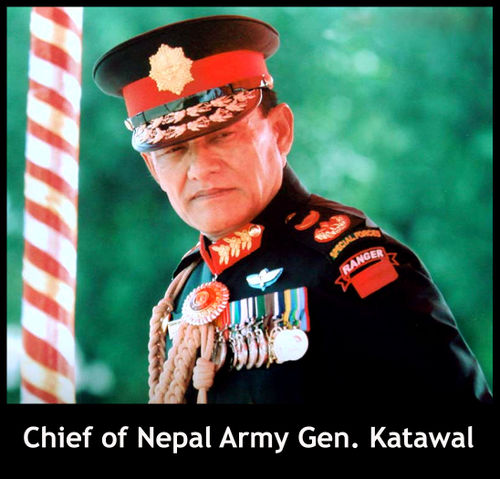 Kathmandu, Apr 23: Communist Party of Nepal- Unified Marxist Leninist chairman Jhala Nath Khanal on Thursday said that after keeping in view the ongoing peace process, it is advisable to give priority to the main task that lies ahead – that of taking the peace process to its logical conclusion - rather than "tampering with the Army".
Khanal, who hastily arrived in Kathmandu on Thursday morning, said that though it has become increasingly necessary to "discipline the Army", it is not the time to meddle in its affairs just now.
When asked whether his party had given prior consent to the Government to take action against the Nepal Army chief Rookmangud Katawal, Khanal said that his party would make public its view on this row only after holding discussion with leaders of his own party as well as that of others.
Accorind to the Nepalnews, Khanal is scheduled to meet Prime Minister Pushpa Kamal Dahal and other party leaders to find a political consensus on the issue of Army chief.
According to officials, Khanal and two other UML leaders Gautam and Pokharel are said to be in favour of relieving the army chief from his post, while former party boss and senior leader Madhav Kumar Nepal and K. P. Oli, one of the contender to the post of the party chairman and a staunch Maoist critic, are strongly opposed to the Maoist government's move, calling it a ploy to humiliate Nepal Army and weaken democracy.
Prime Minister Pushpa Kamal Dahal, who has deferred action against the Chief of Army Staff (CoAS) Rookmangad Katawal due to increasing international pressure, has stated that the government is committed to uphold civilian supremacy and sought support from international community in his mission.
During a meeting with foreign diplomats at his residence in Baluwatar on Thursday morning, Dahal sought support from international community in his mission.
Finance Minister Dr. Baburam Bhattarai, who also attended the meeting, told journalists that the Prime Minister assured the diplomats that a decision would only be taken with consensus among political parties.
Envoys from eight countries including the United States, United Kingdom, India, China, Finland and Japan had reached the PM's residence to discuss the issue collectively as invited by PM. (ANI)