Nagarjuna Construction gets order worth Rs. 570 crore, stock up 6%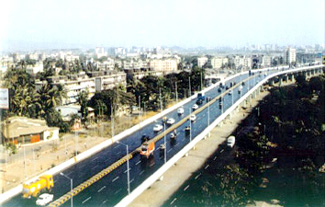 Nagarjuna Construction Company Ltd has announced that the company has bagged an order worth Rs 570 crore (Rs. 5,700 million) from Government of Oman for the Wadi Adai Al Amerat road project.
The proposed 7.5 km road is to be completed in 18 months. The project among others involves the construction of six new bridges of varying lengths, nine box culverts and one single lane bridge, an official release said.
Nagarjuna construction's divisions include Industrial Structures & Buildings, Transportation (Roads, Bridges & Flyovers), Electrical Projects (EHV/HV Substations, Transmission & Distribution Projects), Water & Environment Projects (Pipelines & Treatment Plants), Hydropower Projects, Irrigation Projects.
The firm presently holds market cap worth Rs. 7,847 crore. The company had showed a net profit of Rs 34 crore for the quarter ended September 2007 as against Rs. 39 crore in same quarter of last year.
At 1:05 PM, the share was trading at Rs. 344 on NSE, up by 7 % compared with previous close of Rs. 322. The stock has touched an intraday high of Rs. 345 and low of Rs. 325.
Stocks in Construction sector have been gaining in past few weeks on back of high volumes. Many real estate companies like Omaxe, DLF and Unitech are looking good for long term investments. Omaxe stock has recently touched a 52-week high on NSE.