'Modi Wave' is over, says Arvind Kejriwal
Submitted by Hardeep Sidhu on Tue, 09/16/2014 - 19:29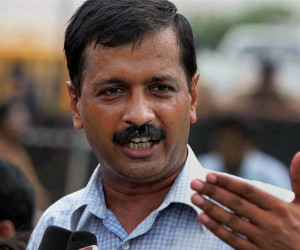 New Delhi, Sept 16 : Aam Aadmi Party (AAP) chief Arvind Kejriwal on Tuesday said that the 'Modi Wave' was over and that the message of the bypoll results is that people have realized the truth.
Kejriwal said, "The 'Modi Wave' is over. People have realized the truth that is the message of today's poll results."
"The picture is clear today, the rise in corruption and inflation in these last 100 days has shattered the hopes of the people. People have been cheated," he added.
In Uttar Pradesh, BJP has won one seat while leading on two while the Samajwadi Party has won eight seats in Uttar Pradesh.
In Rajasthan, Congress won three seats while the BJP won one seat and in Gujarat BJP has won six while the Congress managed to win three seats. (ANI)
Technology Sector