Microsoft launches low budget 'Nokia 130' for just NZD 30
Submitted by Karan Jakhad on Tue, 08/12/2014 - 21:00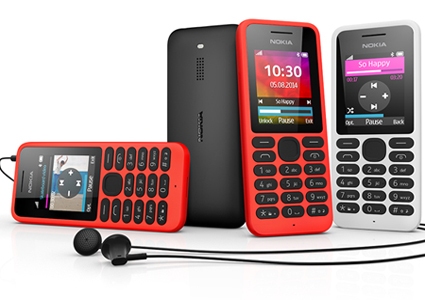 Washington, Aug 12 : Microsoft has launched a low budget phone 'Nokia 130', which can play music and videos but no internet capabilities, available for just 30NZ dollars.
The Nokia 130 comes in single and dual-SIM card varieties but does not have internet capabilities. Instead, it's optimized for playing music and videos.
The handset boasts up to 46 hours of music playback time and 16 hours of video playback. It can remain on standby without needing to charge for a month. Music and videos can be stored locally on the device with an SD card, and the phone itself can store up to 32 GB, Adweek reported.
The Nokia 130 also comes equipped with an FM radio, flashlight and 1.8-inch LCD display.
Microsoft understands the importance of hooking customers in developing markets, particularly Africa. Microsoft's Jo Har low said that Microsoft doesn't have any other project that can reach these consumers, the report said. (ANI)
Technology Sector