Michelle, Hillary Clinton more popular than Obama
Submitted by Hardeep Sidhu on Thu, 12/31/2009 - 13:49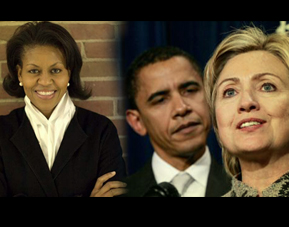 Washington, Dec 31- President Barack Obama may be America's most admired man this year according to a new poll, but two women edge him out as the most popular person according to another.
A Gallup poll released Wednesday rated Obama as clearly America's most admired man with 30 percent of those surveyed voting for him. Former President George W. Bush came in a distant second with 4 percent while former South Africa President Nelson Mandela scored 3 percent in the poll.
But a CNN/Opinion Research Corporation survey indicated that the president's poll numbers pale in comparison to the favourable ratings of two women: Secretary of State Hillary Clinton and first lady Michelle Obama.
Fifty-eight percent of people questioned in the survey have a favourable view of Obama, with four in 10 holding an unfavourable view. But the president's favourable rating is 10 points below that of his wife and 6 points behind the secretary of state.
According to the poll, 68 percent of the public has a positive opinion of the first lady, with 19 percent holding an unfavourable opinion. Sixty-four percent have a positive view of Clinton, with three in 10 holding an unfavourable view.
The survey indicated that nearly nine out of 10 Democrats have a positive view of the president, with Independents split and more than 3 out of 4 Republicans seeing Obama in an unfavourable way. Obama's favourable rating is down 6 points from August and 11 points from April.
In the Gallup poll, Hillary Clinton narrowly edged out former Alaska Governor Sarah Palin as Americans' most admired woman with 16 percent of Americans rooting for her, while Sarah Palin won the admiration of 15 percent. Talk-show host Oprah Winfrey and first lady Michelle Obama came in at No. 3 and No. 4 with 8 percent and 7 percent respectively.
"Hillary Clinton has now been named Most Admired Woman 14 times since 1993, spanning her career as first lady, New York senator, and now secretary of state," Gallup stated. "The three times she has not finished first during this time, she earned second place(to Laura Bush in 2001 and to Mother Teresa in 1995 and 1996)." (IANS)
Technology Sector