Mercedes reveals BlueZERO modular plans for electric drive
Submitted by Mohit Joshi on Wed, 12/31/2008 - 12:18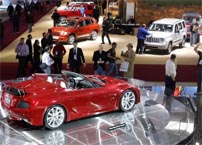 Detroit  - Mercedes has revealed plans for a modular electric drive concept with a BlueZERO concept vehicle at the Detroit Motor Show.
Based on a single vehicle architecture, the BlueZERO E-Cell vehicle has a battery drive with a range of 200 kilometres. The F-Cell version with a fuel cell puts the range at over 400 kilometres while the E-Cell Plus with electric drive combined with an internal combustion engine has an overall range of up to 600 kilometres.
"The flexible BlueZERO concept allows electro mobility for every requirement," Daimler's CEO Dieter Zetsche said.
The three BlueZERO versions are based on the sandwich-floor architecture which the car maker initially introduced for the A-Class. The three models share the same key technical components, while the design and vehicle dimensions are identical.
Compared to electric cars based on conventional vehicle platforms, the BlueZERO offers several advantages with the accumulators/generators integrated into the sandwich floor, allowing more passenger and luggage space.
All three BlueZERO models are fitted with liquid-cooled lithium-ion batteries with a storage capacity of up to 35 kWh and the compact electric motor with a maximum output of 100 kW (continuous output 70 kW), which develops a peak torque of 320 Nm. All three variants accelerate from 0 to 100 km/h in less than 11 seconds. The top speed is electronically limited to 150 km/h.
With a charging capacity of 15 kW, the lithium-ion batteries store enough energy for a range of 50 kilometres within 30 minutes. In terms of purely electrical drive, one or two hours of charging time is needed for a range of 100 and 200 kilometres respectively, according to the car maker.
The BlueZERO E-CELL PLUS has the same 1.0-litre turbocharged petrol engine as the Smart Fortwo as an additional range extender. The three-cylinder motor has an output of 50 kW at a constant 3500 rpm. If required, it can recharge the 17.5-kWh lithium-ion battery by means of a similarly rated alternator.
The exterior design has dynamic flanks with a dominant front and the typical centrally located star. The 20-inch wheels have been aerodynamically optimised with low-friction tyres reducing rolling resistance. The compact rear is characterised by tail lights in the shape of a curved "L". (dpa)