McGrath says Steyn will have to pass the ultimate test against Australia
Submitted by Mohit Joshi on Thu, 12/11/2008 - 13:52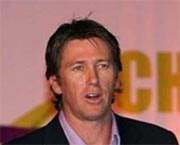 Sydney, Dec. 11 : South African fast bowler Dale Steyn may be ranked the fastest bowler in the world, but to certify that accolade, he will have to pass the ultimate test against world champions Australia, says former pace great Glenn McGrath.
Steyn has emerged as the world''s top-rated fast bowler in 2008 after a prolific year in which he became the fastest South African to 100 Test scalps and is the globe''s leading wicket-taker this year with 60 wickets.
The Courier Mail quoted McGrath as saying: "I always thought that (playing and beating Australia) was the ultimate test. You are bowling against some of the best batsmen in the world. For a guy who hasn''t played against Australia before, you have to get yourself up for that. It''s just about the biggest challenge you get in Test cricket, particularly in Australia. I will be interested to see how he goes this series."
The aggressive 25-year-old has been touted as the Proteas'' X-factor in their attempt to claim a first series win on Australian soil, but questions remain about whether Steyn can match the hype.
Of Steyn''s 60 wickets in 2008, a total of 37 have come against ninth-ranked Bangladesh (22) and the seventh-ranked West Indies (15).
His only experience of bowling to Australia came in a one-day match in 2006 when he was belted for 1-58 from five overs.
In Steyn''s last Test against Bangladesh the awkward right-armer took 1-103 and picked up a hamstring injury, which forced him to miss the Proteas'' warm-up match against Western Australia this week.
McGrath conceded he had only heard good reports about Steyn but said his ability to stay fit would be telling.
"He is a big key for them. Obviously when you are bowling that pace, and putting that much stress on your body all the time, you have to stay fit and on the park," McGrath said.
"But I''ll back our boys any day. My prediction is still 3-0," he said. (ANI)
Technology Sector