Manmohan Singh arrives in China on three-day visit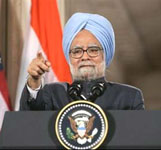 Beijing, Jan. 13: Cloudy skies, a chilly wind and temperatures of -10 degrees greeted Prime Minister Dr. Manmohan Singh, his wife Gursharan Kaur and the Indian delegation accompanying him on his arrival in Chinese capital Beijing on Sunday morning.
Dr. Singh was received by Chinese Vice Foreign Minister Dai Bingguo, India's Ambassador to China Nirupama Rao, senior Chinese and Indian Embassay officials. Guard of honour was presented by a small contingent of the Chinese Army at a simple ceremony on the tarmac at the new Beijing International Airport.
The formal ceremonial reception will be held on Monday at the Great Hall of People where Dr. Singh will hold delegation-level talks with Chinese Premier Wen Jiabao.
The Prime Minister's schedule for the day includes a visit to the Olympic Centre, where he will be received and shown around by the Mayor of Beijing. In the evening, he will attend a private dinner hosted by Chinese Premier Wen Jiabao at the Diaoyutai Guest House.
Earlier, Dr. Singh on Saturday said that he would use his three-day visit to China to give substantive content to the nearly three-year-old Strategic Cooperation Partnership inked by Prime Minister Wen Jiabao and himself.
In a departure statement ahead of his visit, Dr. Singh said: "Our bilateral relations are now poised to enter a vibrant and dynamic phase, based on a common recognition that the growth and development of both India and China will make positive and long term contributions to regional and global peace, security and stability. We share a desire to enhance our relationship both bilaterally and at the global level."
"I look forward to my discussions with the Chinese leadership on the entire gamut of our relationship. We are engaged in the process of giving substantive content to our partnership through comprehensive economic engagement and developing mutually beneficial cooperation in the areas of science and technology, culture, education, defence and security, and increasing people-to-people contacts, he said.
"Issues relating to the boundary and cooperation with regard to Trans-boundary Rivers will be discussed. I will be discussing how we can work more closely with China on regional, multilateral and global issues." he added.
During the visit, India and China will sign five Memoranda of Understanding (MoU) and institutional mechanisms for cooperation in railways, housing, geo-sciences, land resource management and traditional medicine.
The Prime Minister will be accompanied by a 25-plus-member business delegation, comprising big guns of India Incorporated from a range of sectors, including manufacturing and IT.
He will be the first Congress Prime Minister to visit China since September 1993 (P. V. Narasimha Rao was the last one). Atal Behari Vajpayee undertook the last visit by an Indian Prime Minister to China in June 2003. Dr. Singh will be the fifth Indian Prime Minister to undertake a visit to China since 1954. (ANI)