Made-in-Germany Tesla Model Y Performance to be delivered in March 2022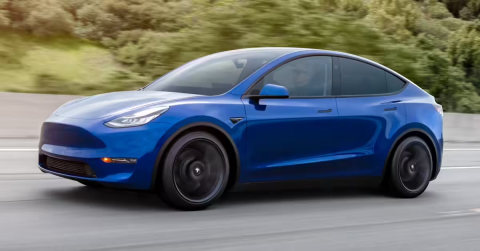 Deliveries of made-in-Germany Tesla Model Y Performance electric crossover SUVs will be started in March 2022, emerging reports suggest. After long delays and repeated postponements, Tesla's new manufacturing facility in Germany has started producing the Model Y Performance.
The California-based electric vehicle manufacturer recently received regulatory approval to produce up to 2,000 Model Y (potentially test or demo EVs) as part of its preparation for series production. Dozens of those EVs have already been produced at GigaBerlin, and they are waiting to be delivered to the customers.
A big majority of the EVs already produced at GigaBerlin are either black or white. Other colors will be added t the list in the coming months.
An update published at Tesla's European website indicates that the estimated delivery time for the Model Y Performance (new orders) is now March 2022. Previously, it was early 2022.
At present, it is expected that the initial production of the made-in-Germany Tesla Model Y crossover SUVs will be based on the standard approach, which will feature front & rear megacastings and 2170-type cylindrical cell battery pack. In the next step, sometime in the future, the company will launch a structural battery pack version featuring 4680-type cylindrical cells.
The Tesla Model Y was launched around a couple of years ago, and this incredible EV took only a short time to overtake its equivalent vehicles to dominate the global market. The Jaguar I-Pace is perhaps the only electric SUV that comes close to the Model Y. However, the wide difference in the prices of the two gives the Model Y a mind-blowing advantage.
The Model Y comes equipped with a dual-motor setup, with one motor on each axle. The front and rear motors produce peak power of 272 hp and 212 hp, respectively. Combined output is 384 hp, while torque has been reported at 376 lb-ft. On the performance trim, this output escalates to 450 hp and 471 lb ft of torque. It is quite fast as well – able to accelerate from 0 to 60 in merely 4.8 seconds.
In Germany, the Model Y Performance is being produced at Tesla's massive manufacturing facility in Berlin. The Gigafactory Berlin, which is also known as Gigafactory 4 or Gigafactory Europe, was expected to start production in 2021. However, administrative troubles and opposition by some local groups delayed the start of production. The mega manufacturing facility has specifically been designed to cater to European customers' soaring demand for Tesla products.