LifeCell International inks pact with Max New York Life Insurance
LifeCell Internati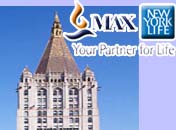 onal, India's first and the largest stem cell banking service provider, has entered into an arrangement with Max New York Life Insurance.
Under the arrangement, Max New York will reach out to LifeCell's customers who are expectant parents and create awareness on the importance of securing a child's future against unseen health and financial needs.
LifeCell ensures biological insurance for children by banking their umbilical cord blood stem cells for future therapeutic use, Max New York will offer life insurance options to LifeCell customers helping them meet the future financial needs of their children.
According to an official release, every LifeCell customer will get the opportunity to analyze their future financial needs and explore various insurance and savings options available with Max New York Life Insurance.