Lady Gaga has been clubbing since childhood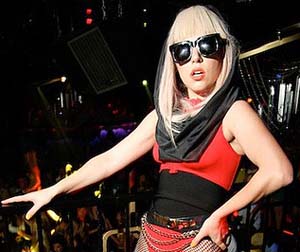 Washington, March 6: Hitting the clubs may be a common practice for Lady GaGa now, but the singer revealed she was no stranger to the hotspots even as a child.
The 22-year-old said, thanks to her 'super cool' mum, she had been club-hopping in New York for performances since high school.
"I've been playing out in clubs since I was in high school, since I was fifteen my mum used to take me [because] I was too young to get in," Fox News quoted her as telling Tarts.
"My mum was super cool. She''d help me sign up and perform and then when I got to college I started gigging, I would ride my bike around or walk to different clubs in New York on the Lower East Side and in the East Village.
"You've got to play clubs, you've got to do amazing, you''ve got to fail, you've got to get standing ovations and need to be booed off the stage," she added.
The "Poker Face" further recalled being awestruck by the gossip blogger and self-professed Queen of all Media.
She added: "I was playing at Perez Hilton''s bash so I invited my girlfriends to come, they were so excited. It was for Perez Hilton, he's a big celebrity." (ANI)